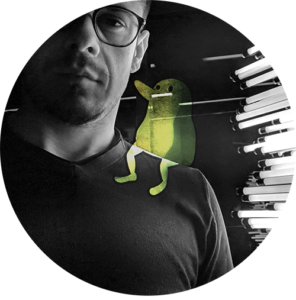 Qualcosa su di me
David Landi nasce nel 1984 a Senigallia, dove vive.
Timido e introverso, il piccolo David trova nelle matite il propulsore per aprire le porte di mondi altri, come nei fumetti e graphic novel di cui si nutre avidamente.
Il disegno rimane la costante durante il suo percorso e decide di farne una professione. Mette temporaneamente in pausa gli studi universitari per maturare e perfezionare le proprie capacità di illustratore, parallelamente alla grafica, presso ACCA – Accademia di Comics, Creatività ed Arti visive (già Scuola Internazionale di Comics) di Jesi.
Da bravo geek, oggi David ha fatto del tablet con pennino il suo inseparabile compagno di viaggio, ma nella sua personale "cassetta degli attrezzi" non mancano mai pennelli, acquerelli, chine e acrilici. 
Quando non dipinge si dedica alla lettura, a videogiochi, giochi di ruolo, musica indie e fitness.
Ha collaborato con Clementoni, Lisciani, Mondo Lavoro magazine, oltre a enti ed editori locali.
Something about me
David Landi was born in 1984 in Senigallia, where he lives. 
He was a shy, introspective boy and his pencils were the propeller to open the doors of other worlds, like the ones he saw in comic books and graphic novels that he loved so much.
Drawing has been the red wire connecting his life together. He decides to be an illustrator so he takes a break from university and decides to go to the ACCA Academy of visual arts where he gets a degree in illustration and graphic design. 
To illustrate he mainly uses his beloved pen tablet but on his drawing table there is always space for some brushes, some pencils, a watercolor set and a lot of acrylic paint.
In his free time he likes reading, playing games, listening to some good indie songs and going to the gym. 
He worked for toys' companies, children's books publishers (Clementoni, Lisciani), magazines, local publishers and agencies.